READ TIME 3 MIN – With less than 5 months left until the opening of the Christkindlmarket 2022 and around 90 degrees outside, some of you might be asking what our team and the Christkind – the namesake of the market – are doing during the summer… 
Although the Christkindlmarket is a Chicago winter event, the team is already in the midst of preparing everything for the upcoming season, including the communication and work with vendors, contractors, sponsors, partners and entertainers. The marketing team and the Christkind are working on some throughout the year and winter campaigns; one of them being: "Exploring the Christkind's Hometowns – Chicago & Aurora."
Throughout the next few weeks, you might meet the Christkind in her beautiful gown at some of her favorite spots in the Chicagoland area. Starting in Chicago, she will visit several of the city's most beloved tourist attractions (like the Museum Island and Buckingham Fountain) to experience the windy city's unique atmosphere. You might see her strolling around the suburbs, at outdoor festivals or local events, adding a little winter magic to the lovely summertime.  If you meet her in person, don't forget to snap a photo with her and share it on Instagram, so that we can repost it in our stories. Don't worry if you don't spot her in person – you can follow her adventures on Instagram and TikTok. 
If you are a business owner who is interested in having the Christkind visit, please feel free to reach out to us.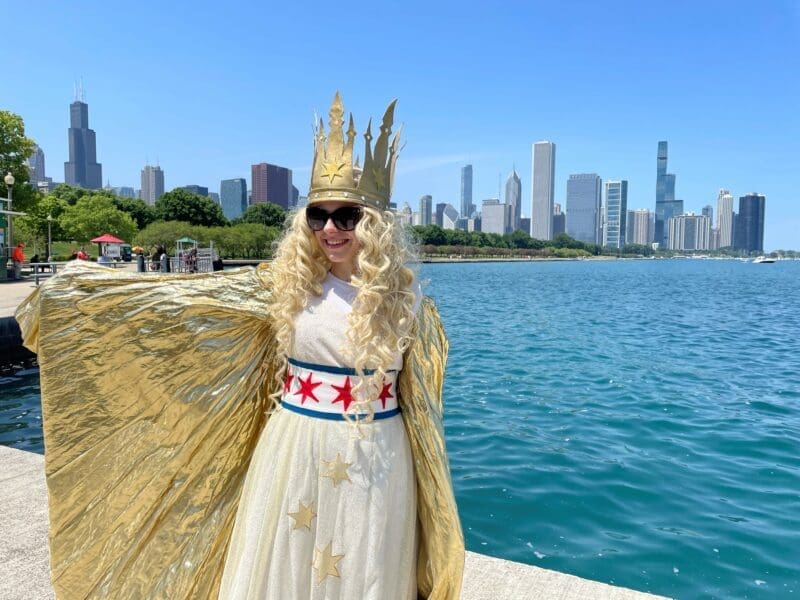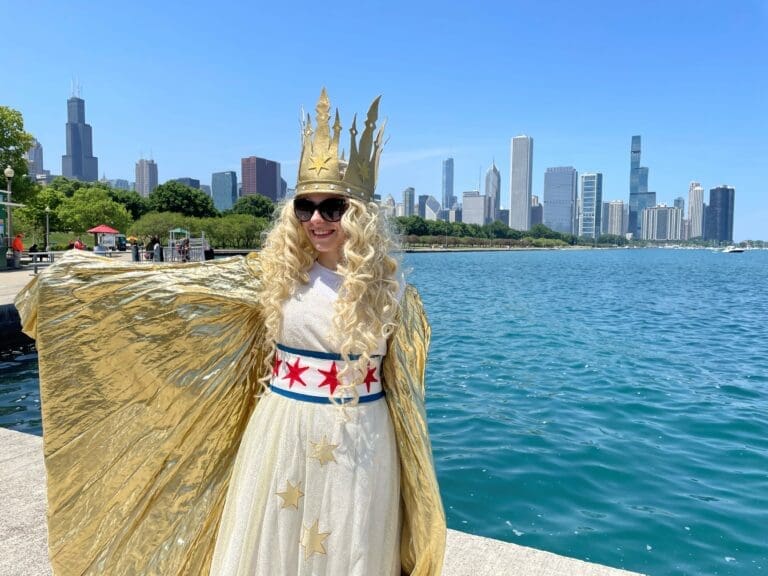 Every year visitors from more than 30 different countries, as close Canada to as far as New Zealand, are hailing to the Christkindlmarket. And although the Christkindlmarket is a local winter highlight to thousands of our friends who live right next door, we also welcome many international friends travelling to Illinois for this authentic German holiday tradition. 
Although those visitors primarily come to Chicago for the Christkindlmarket, many of them stay a few extra days to enjoy many other tourist attractions and experiences. As part of her summer vacation, the Christkind steps into these visitors' shoes to experience her hometowns and their highlights in a whole new light – just like our visitors from near and far.
We appreciate our partnerships with ChooseChicago, the official tourism and destination marketing organization of Chicago, as well as local organizations like the Chicago Loop Alliance working hard all year long to plan out events to revive downtown Chicago. Partnerships like these give the Christkind even more opportunities to show off her amazing hometowns. 
If you are as eager to explore Chicago, check out KAYAK's Chicago travel guide as well as the momondo's Chicago guide for travel inspirations for your upcoming vacation. Their guides include some fun activities to make the most out of your Chicago trip – you might even be lucky enough to run into the Christkind during your stay!