READ TIME 4 MIN – It's official – The Christkindlmarket will be returning with 3 locations in 2022: Aurora, Chicago, and Wrigleyville! All of them will unite cherished European tradition with international flair and local charm, offering an authentic German-style holiday market experience. Visitors will be able to purchase the beloved souvenir mug and Christkindlmarket merchandise at all three admission-free locations! Even though all of the markets look the same with our signature red and white striped wooden booths, they each have their unique holiday atmosphere, vendors and live entertainment.
Aurora – Holiday Fun for the Whole Family
The Christkindlmarket Aurora is not only our only suburban location but also the newest addition to our Christkindlmarket family. With over 30 vendors and a warming tent for visitors, the Aurora market will be certainly no less exciting than our traditional locations! Located at RiverEdge Park with plenty of space for visitors and parking opportunities just across the street, the family-friendly Christkindlmarket Aurora is perfect for all age groups. Stroll through our magical Christmas village and enjoy live entertainment, hot beverages and delicious German and international food, outside the busy city life.
Special about our Christkindlmarket Aurora location in 2022: Although our vendors haven't been officially announced yet, we are already excited to share that many of our Chicago staple vendors decided to join in on the suburban Christmas fun and will offer their food and handcrafted gifts from all over the world right in Aurora as well! Among them is Baked Cheese Haus and – of course – there will be various international and local vendors that you can ONLY find at the Christkindlmarket Aurora. What else is there do to before or after you visit the Christkindlmarket Aurora? Check out events at the Paramount like the Sound of Music or Movie Mondays.
Make sure to let all of your loved ones know: The Christkindlmarket is #backintheburbs and celebrating its debut at RiverEdge Park! And don't forget to stay in the loop about all the upcoming special events – follow us on Facebook, Instagram and sign up for our newsletter.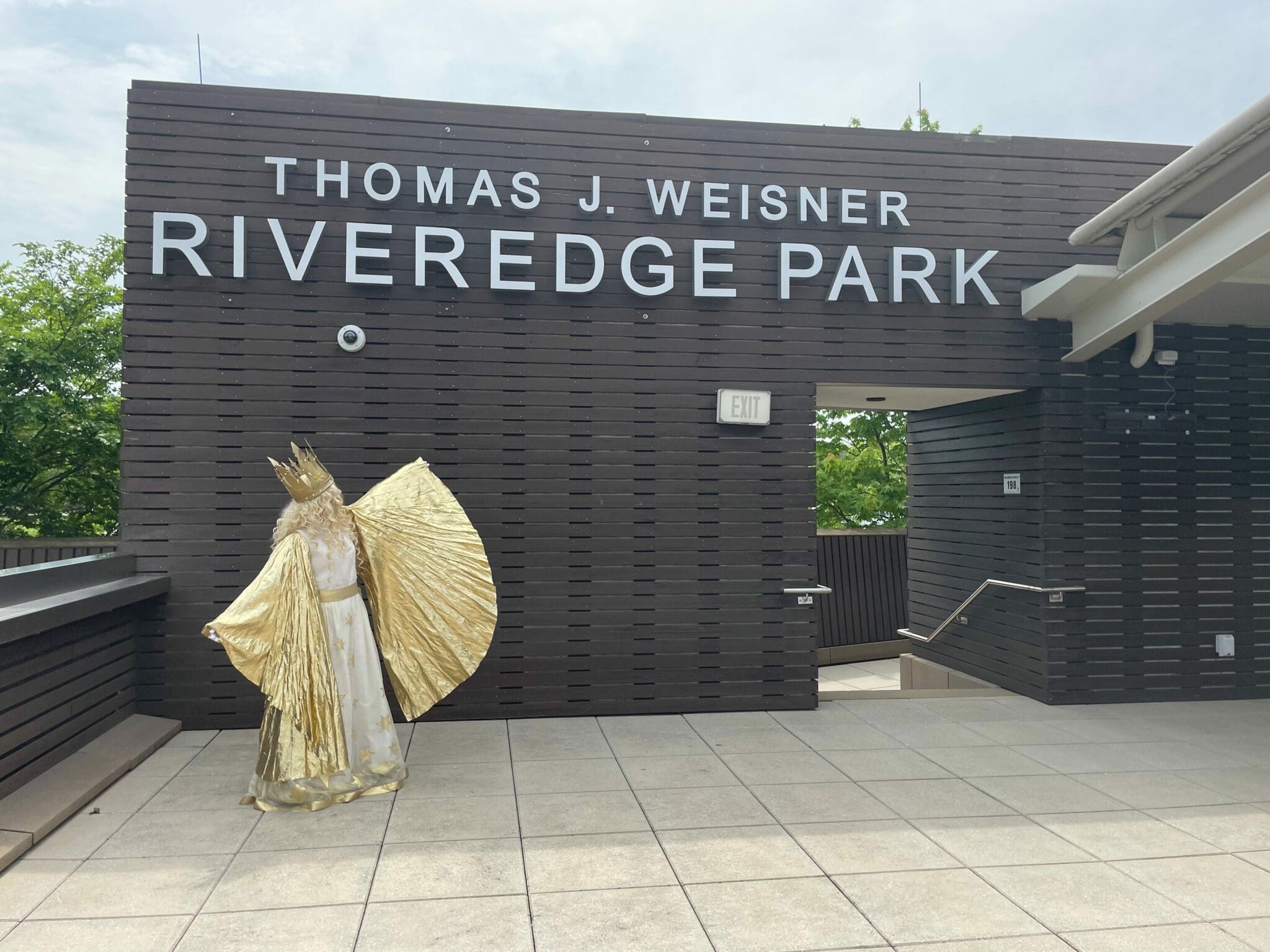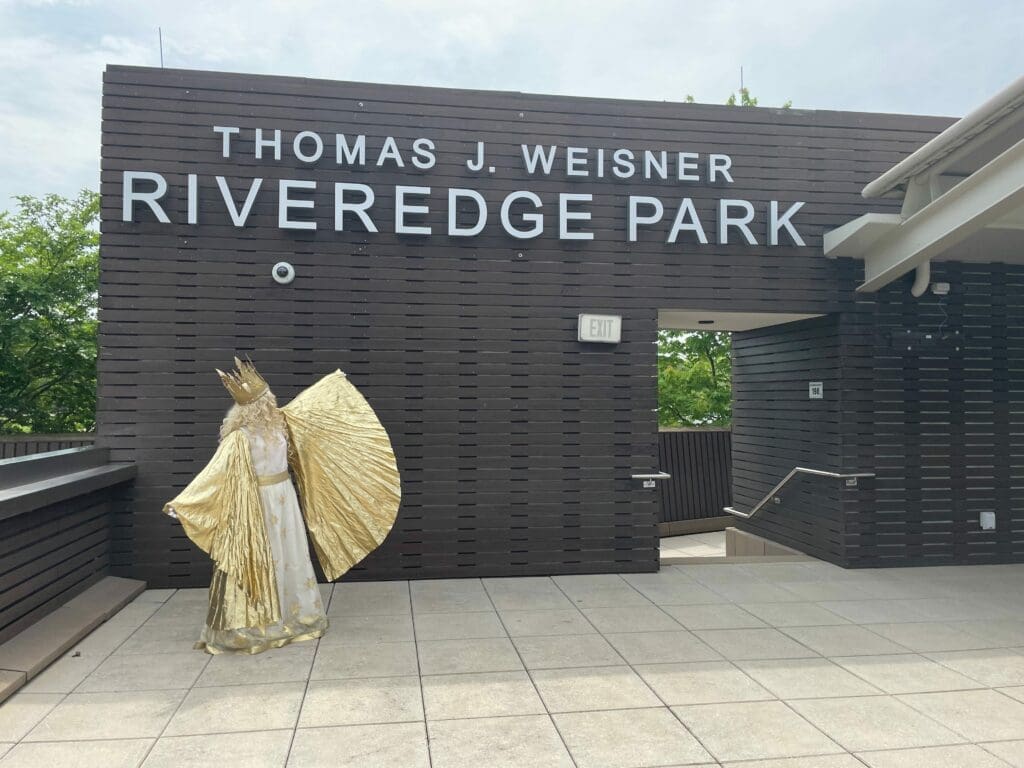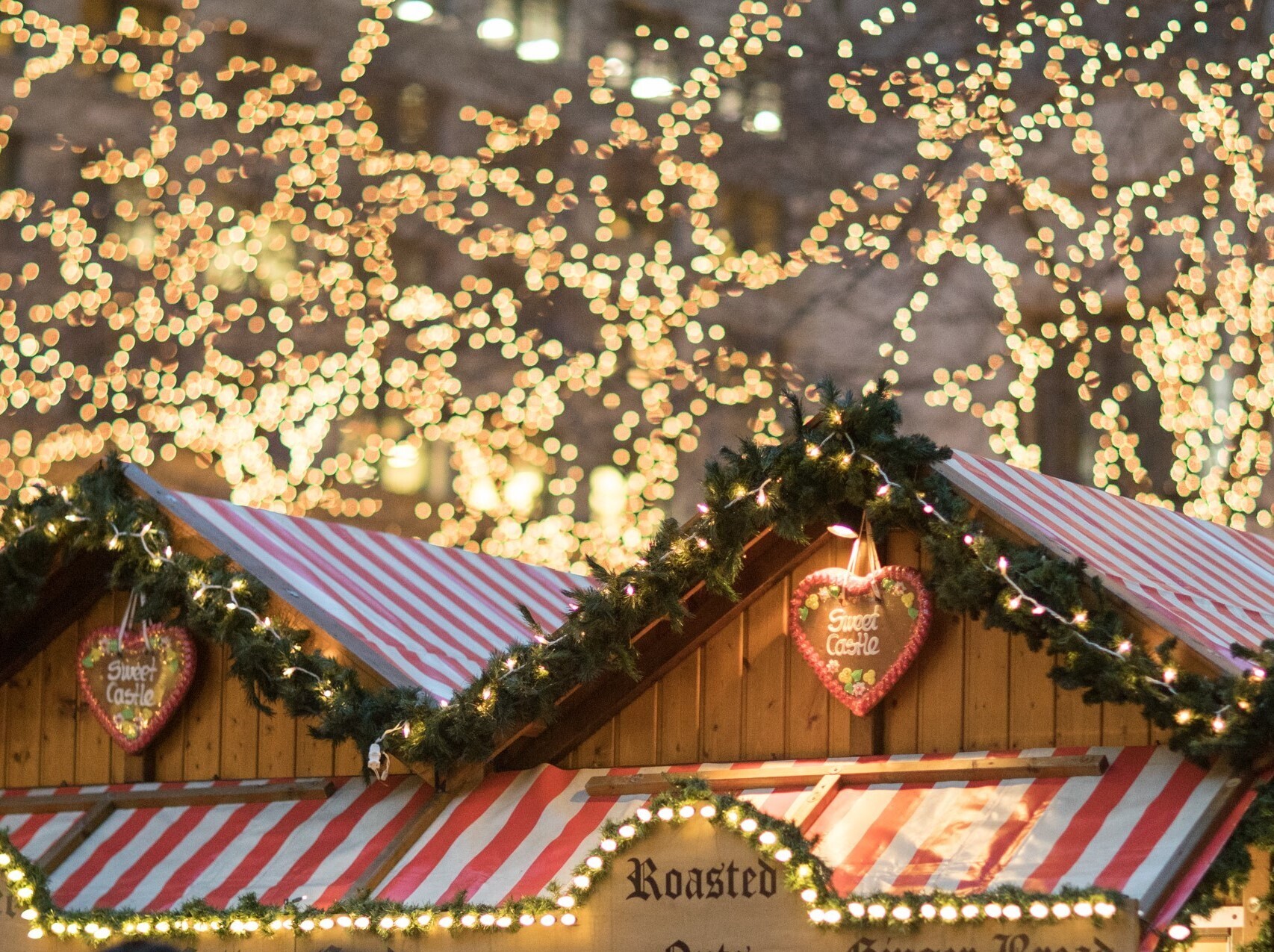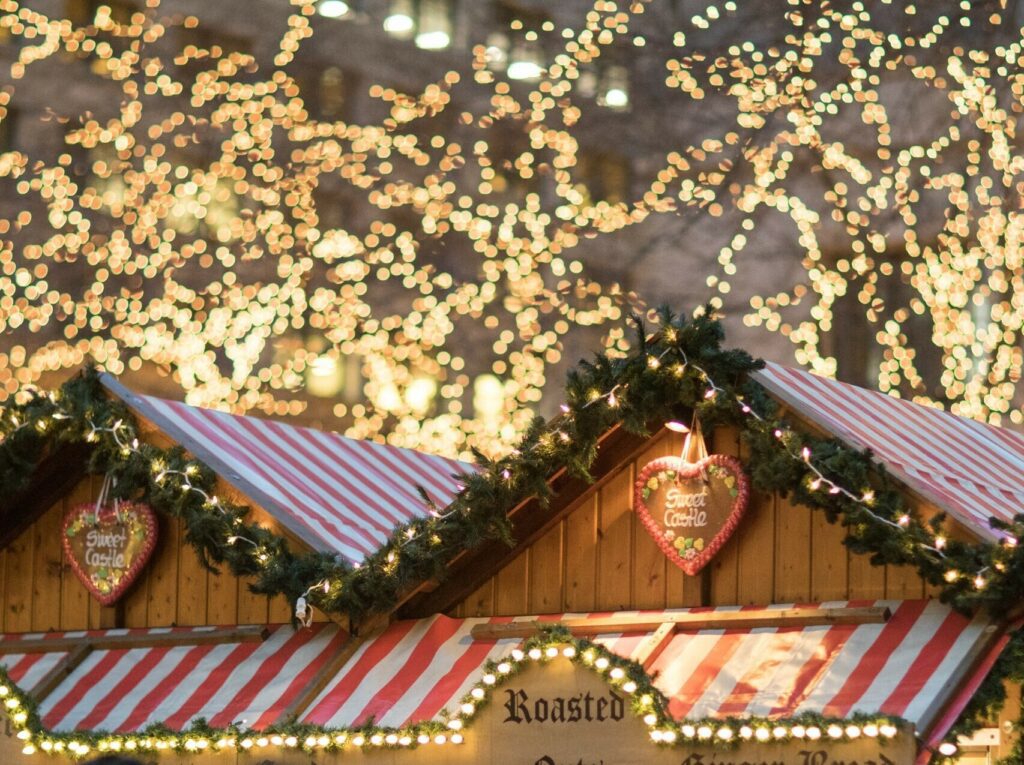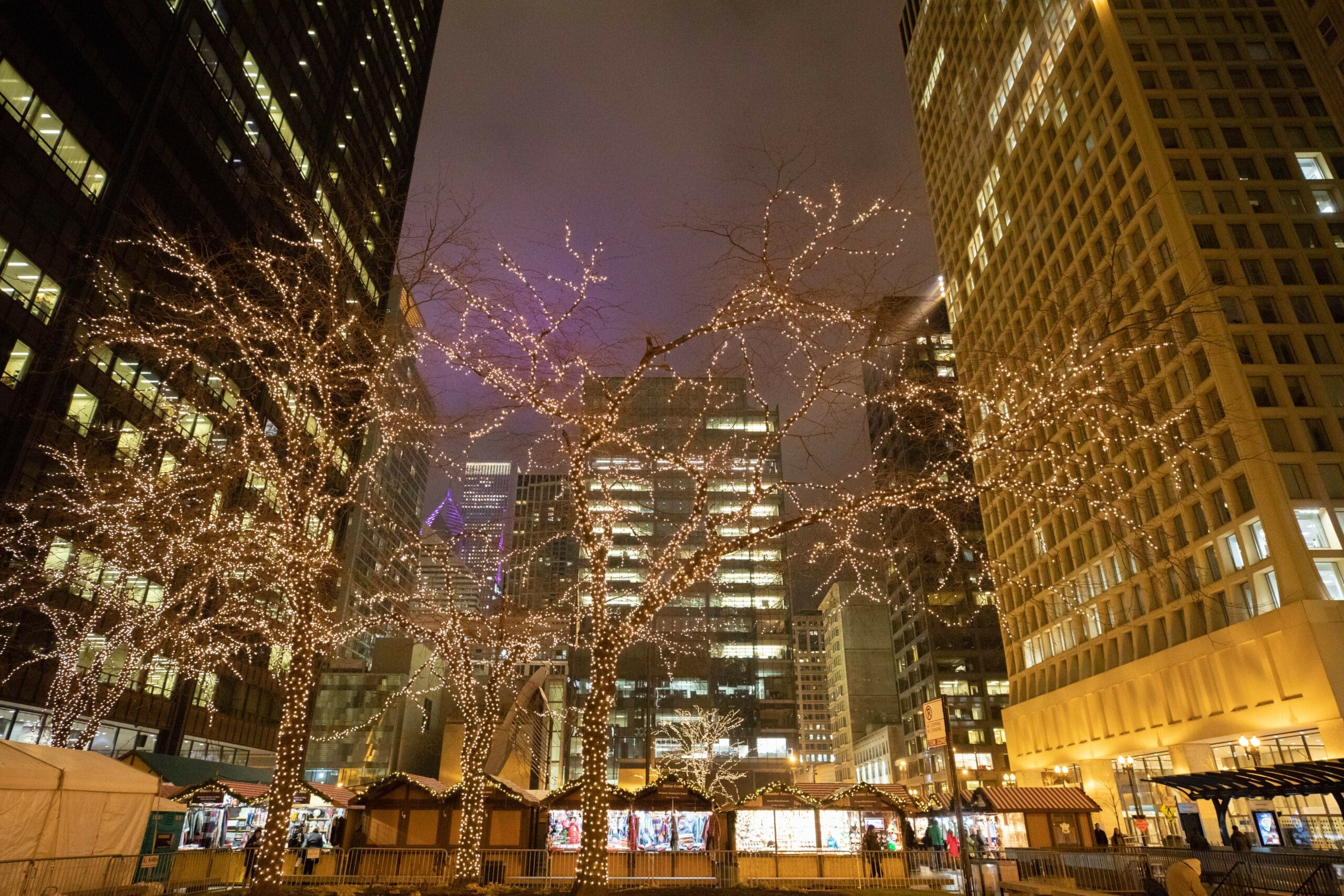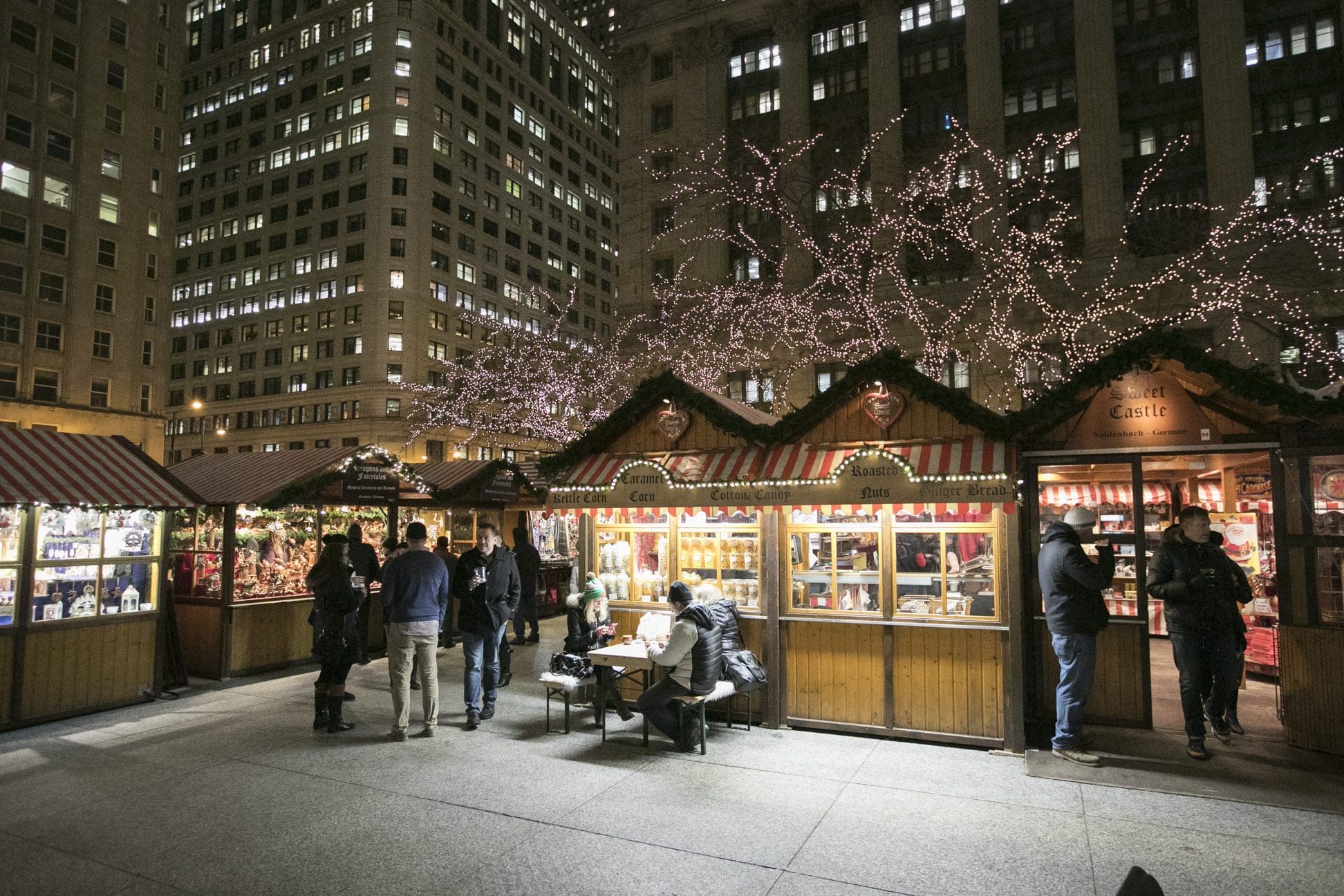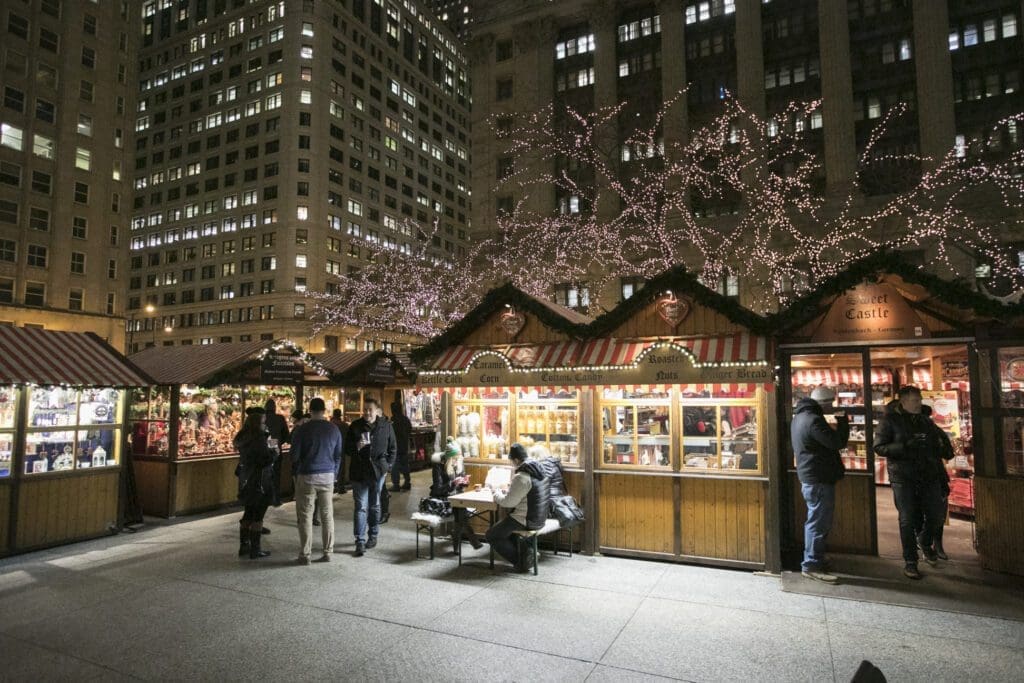 Chicago – The Authentic Holiday Tradition in the Heart of the City
Whenever you overhear people talking about "the Christkindlmarket" (or as we have heard people call it before "Christ kringle market, Kris Kringle Market" or simply the "German Christmas Market Downtown"), they usually refer to our oldest and first Chicago location. The Christkindlmarket at Daley Plaza has been around since 1996 and is our traditional market, known to many as the wonderful holiday village, nestled in the heart of the city. Vendors sell all kinds of international food and handcrafted holiday gifts out of the red and white striped wooden booths. Many of them have been with us for more than a decade, some of them have even since the beginning. Did you know that some of the vendors leave Germany for a couple of months to only come here for the season? Could it be any more authentic?! The over 15 food vendors with food items such as bratwurst, pretzels, and potato pancakes, take all your senses on a journey! In total, you can find more than 45 vendors at Daley Plaza, and – not to forget – imported German mulled wine and beer.
Special about the Christkindlmarket Chicago 2022: Receptions are returning to the Christkindlmarket in 2022! Our heated alpine-style-decorated Timber Tent can be booked for private events like your company's Christmas party or Happy Hour, providing an absolute unique and exclusive Christkindlmarket experience. Make sure to reach out to us as soon as possible to reserve your spot! 
If you want to experience the Christkindlmarket Chicago in a more intimate setting the night before the official opening, make sure to subscribe to our newsletter to receive an alert as soon as tickets for ther 'Twas the Night Before Christkindlmarket Preview Party go on sale!
Wrigleyville – Holiday Entertainment with a Modern Twist
If you have been to our Christkindlmarket Wrigleyville before, you have probably realized that this location is quite different to the Chicago downtown one. The Christkindlmarket Wrigleyville is located at Gallagher Way, easy to get by public transportation, offering extra seasonal fun for all age groups including ice skating visits with Santa, and more winter activities around the spectacular Christmas tree. Guests can explore all the holiday-themed restaurants and bars throughout Gallagher Way and the hip surrounding neighborhood. You will be able to shop from more than 30 vendors, including some of our long-term staple ones. Get ready for international sweets and treats, savory dishes and unique handmade gifts!
More information on this season's Winterland activities will become available at www.gallagherway.com.
Do you want to learn more about our different locations and stay updated on special events, hotel & parking deals, and more?